Looking back at our 2020 predictions, we could not have foreseen Covid-19 and the impact it has had. The petrol station market has not been immune to the impact experienced by businesses right across the global economy.
Fuel retail in lockdown
Whilst high street retail, was heavily hit with many stores closed (there was an estimated net loss of more almost 10,000 high street chain stores in 2020), petrol stations were understandably deemed essential and continued to trade, and the first and subsequent lockdowns had a relatively limited impact on the values and profitability of forecourts.
With fewer vehicles on the road the demand for fuel in the early part of 2020 fell dramatically, with sales in the first seven weeks of the first lockdown being just 39% (Department of Business Energy and Industrial strategy) of the "normal" levels of the eight weeks prior to March 23. Most operators were able to maintain margins as the global price of crude oil fell and that, coupled with an increase in convenience sales, meant that profits were maintained or in some cases improved. Some of the larger operators requested and received rental reductions backed up by the Government restrictions on landlords being unable to evict tenants during lockdown.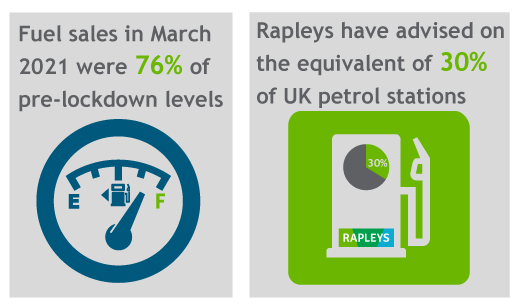 Generally, Rapleys did not see any major reduction in forecourt values, nor did we see operators looking to use Covid-19 as an excuse to renegotiate the purchase price down. Indeed, following the initial lifting of lockdown in the summer of 2020 we saw a significant surge in interest in deal-making in line with resurgent fuel sales.
There were challenges, however. One forecourt owner decided to refurbish a petrol station shop just before the first lockdown and was consequently unable to complete the works until after the country re-opened. The lockdown also caused a slow-down in forecourt transactions, with some parties preferring to wait until the country was out of lockdown to complete and furlough causing teams to be stretched meaning delays were inevitable.
The wider landscape
Whilst individual forecourts continued to trade through 2020, October brought two big announcements outside of the pandemic.
Firstly, BP undertook a sale and leaseback of 199 of their forecourts – generating nearly £400m to invest back into the company. Secondly, was the announcement that EG Group had sealed a deal to purchase Asda – adding a further 325 forecourts and over 2.8 billion litres to its market share. Later in the year we also heard that MFG acquired six forecourts from AUK Investments and Applegreen/Petrogas went private; proving that the 'super indies' are going to continue to be a dominant force in the UK market.
Covid-19 was undoubtedly the biggest issue operators faced in 2020, but arguably the most notable event which will shape for the future of the industry happened in November 2020.
The Government moved the date forward (again) for all new UK vehicles to be non-fossil fuel by 2030, from the previously announced date of 2035. Consequently, a Government White Paper is due out later this year which will provide further clarity on how electrical vehicles will be promoted. As we wrote for Forecourt Trader, for the fuel retail industry the EV revolution will bring significant opportunities, and challenges, with operators having to balance on the one hand the economic reality of EV drivers currently being a vanishingly small market to sell to and, on the other, choosing the right moment to make the almost inevitable investments needed to incorporate charging infrastructure. We will almost certainly see further disruption in the marketplace ahead of 2030.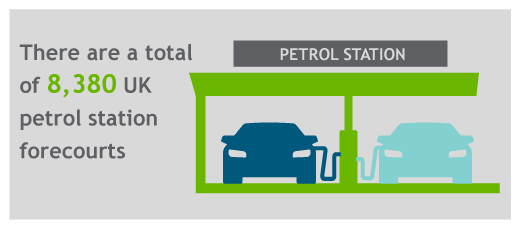 In summary, the industry survived the various difficulties that 2020 brought but as we come out of hopefully a final lockdown, 2021 will of course bring its own hurdles for the market to go through.
Rapleys is embedded in the automotive and roadside industry and through its 70-year history has successfully evolved in line with market developments to provide the best advice and service to our clients. We will continue to do so as the industry adapts to this new period of change and look forward to helping our clients thrive in the 'new normal' for fuel retail.
For advice across the full spectrum of developing, upgrading, buying and selling forecourts or rent reviews and lease renewals, contact Mark Frostick, Senior Associate or a member of our nationwide Automotive & Roadside team.