Residential Development
Balerno – Proposal Description and The Site
Proposal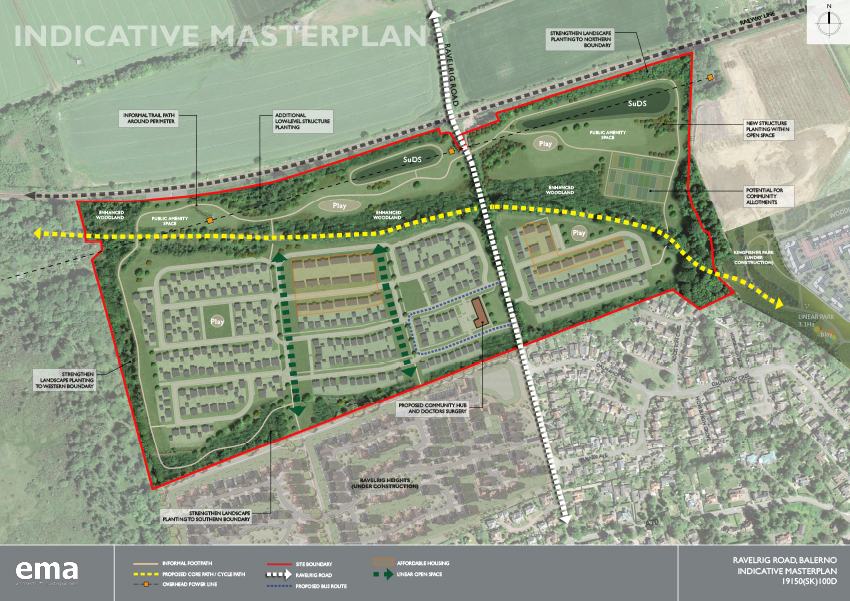 This application is for Planning Permission in Principle, meaning, full details regarding the proposal will not be submitted at this stage.
The maximum levels of development which make up 'The Site' are identified as:
Residential Development of up to 350 dwellings (including affordable housing at 30% which exceeds the Council's current requirements)
Doctor's Surgery of up to 1,000m²;
Community Facility of up to 500m²;
Land for Community Allotment; and
Outdoor recreational area(s).
The largest proportion of the development would be to the west of Ravelrig Road and it is anticipated that this will be served by two main access points. Development to the east of Ravelrig Road will be services by one access point.
The Site
The site extends to approximately 34ha and lies east and west of Ravelrig Road in the village of Balerno located approximately 8 miles west of Edinburgh City Centre. The site comprises arable fields though is bisected by a green corridor which is the route of the former Balerno branch railway line.
To the south of the Site is residential development 'Ravelrig Heights' (existing housing allocation HSG 38). To the west is a tree-belt and to the north it is bounded by the Edinburgh – Glasgow railway line. Arable fields are also present to the east of the Site. However, to the south-east is the 'Kingfisher Park' residential development (housing allocation HSG37) which is also currently under construction.
The Site is bounded to the north by a railway line which serves the Shotts Line, which runs from Glasgow Central to Edinburgh Waverley by way of Shotts.
There are no significant site constraints which would hinder the successful development of this site for mixed-use development.