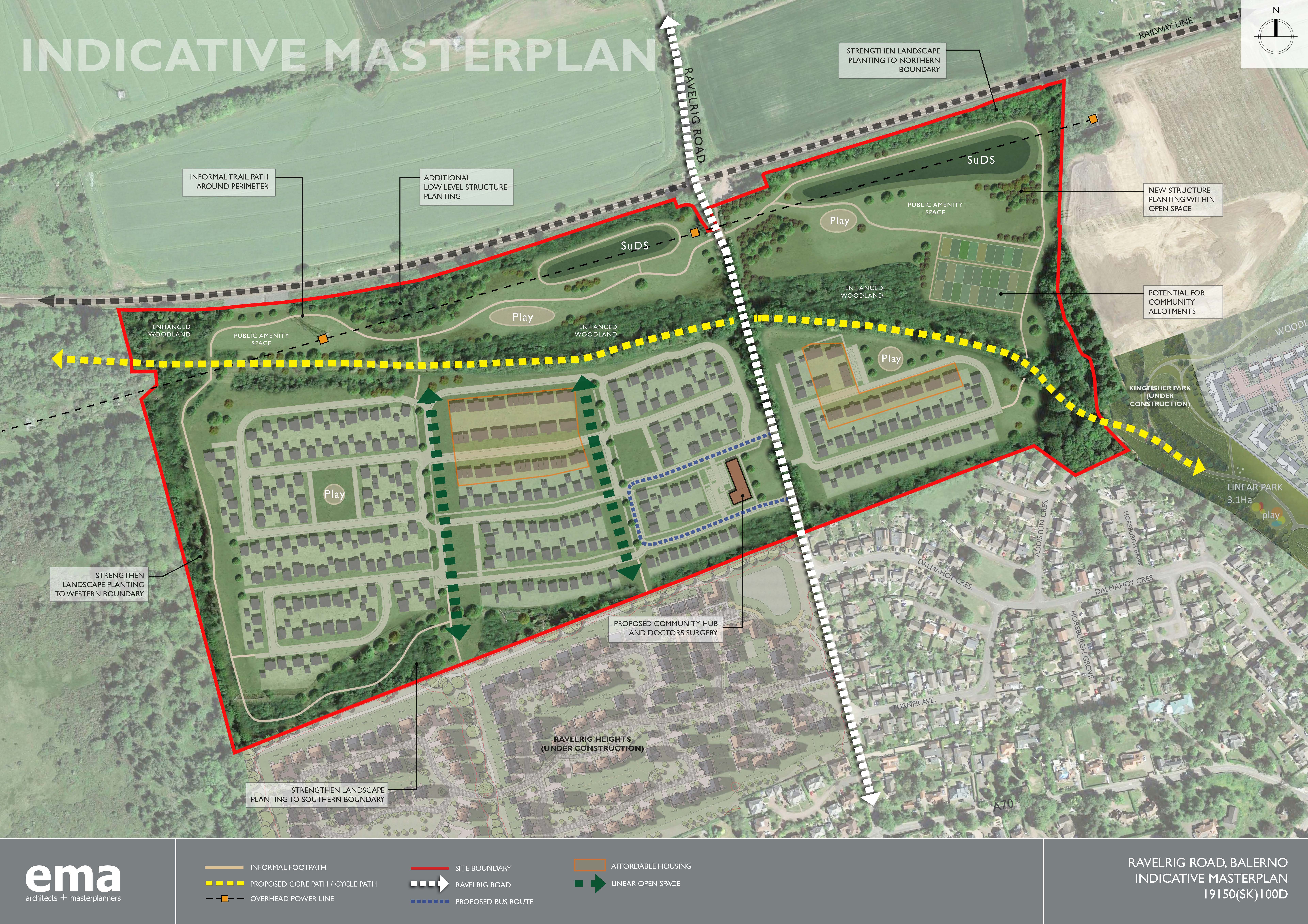 ADDRESS: Land beside Ravelrig Road, Balerno
Key information relating to this consultation:
Welcome
We are preparing a planning application for mixed-use development comprising residential development (Class 9), doctor's surgery (Class 2), community facility (Class 10), outdoor recreational area (Class 11) and associated landscaping, access and infrastructure works at Land to the east and west of Ravelrig Road in Balerno. The application will be seeking 'planning permission in principle', which refers to agreeing the principle of the development rather than providing the detailed design and layout.
The purpose of this website is to provide an opportunity for local residents, businesses and community representatives to learn about our draft proposals and provide comments to help shape the preparation of a planning application. It also enables you to view the Balerno Consultation Leaflet, which was recently sent to local addresses, as well as download the most recent plans for the site.
This consultation will be open until 26 June 2020.
Consultation Background
An initial public exhibition in relation to this site was undertaken in November 2019. Following this event, the proposals have been significantly amended to reflect the comments which were provided during the initial consultation. In order to understand the community's views on the new proposals, we were scheduled to hold a further consultation event on 23 March 2020. However, due to the pandemic Covid-19 this event was cancelled.
As a result, following consultation with Edinburgh City Council we have arranged a comprehensive alternative method of consultation. This involves distributing an informative leaflet to all households in Balerno and creating a bespoke consultation webpage, email address and telephone number. We have also produced an online questionnaire to provide your views and will be hosting two interactive Q&A sessions on 12 June 2020 (full details can be found by clicking here).
What happens next
Following this consultation exercise, it is anticipated that the application for Planning Permission in Principle will be submitted later this year to the City of Edinburgh Council.
We will take account of all comments made to further develop the proposals. As this application is for Planning Permission in Principle, the planning application will not set out the exact details of the design and layout of the proposal. A future developer or housebuilder would look further into this and then present the detailed designs for the site with a subsequent planning application.
A 'Pre-Application Consultation' report will be prepared in response to this consultation to highlight the comments received and how these contributed to the details of this proposal. This would be submitted to the Council in support of any planning application.
Downloads: