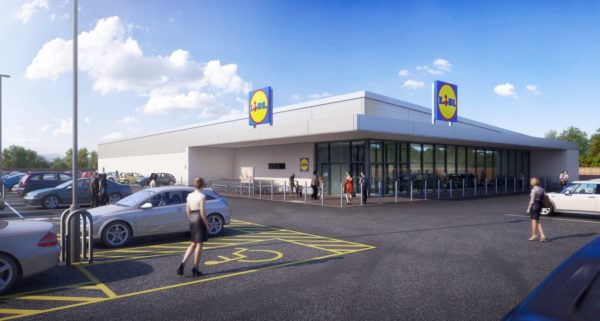 ADDRESS: Land at Seafield Retail Park, Edinburgh
Lidl are looking to deliver a new foodstore at Seafield Retail Park, Edinburgh.
The new Lidl store will be in a convenient location for customers and will bring new investment into the town creating up to 35 new jobs at a minimum of £9.00 per hour with no staff operating on zero-hour contracts.
The new store will be in an existing unit on Seafield Retail Park and will comprise a sales area of 1,215 sq m, customer car parking and an in-store bakery. The site benefits from excellent transport connections.
The new Lidl store will feature the following:
In-store bakery where customers can see the products being prepared before being stocked
Restricted number of product lines designed to complement local businesses
Wide and accessible aisles for free movement
Customer toilets
New style customer checkouts; and
Large and accessible customer car park.
As part of our ongoing commitment to public consultation, we are delighted to be able to provide members of the local community with an overview of our exciting redevelopment proposals. This website provides links to our full planning application that has been submitted to City of Edinburgh Council.
Proposal
The proposed new store would be within an existing unit on the Seafield Retail Park located south of Leith town centre and adjacent to the A199. There is an extensive existing footpath network located around the site providing pedestrian connectivity. A number of bus stops are provided nearby on Seafield Street.
Access to the site will be taken from the existing access off Seafield Road and the car park provides 120 spaces including 7 disabled spaces and 10 parent and child spaces. Bicycle parking will be provided.
It is proposed that the store will be open between the hours of:
8am to 10pm Monday to Sunday (including Bank Holidays)
Normally there will be a maximum of two HGV deliveries to the store per day.  All store waste will be collected at the same time as the deliveries therefore minimising HGV movements within the site.
The proposed Lidl sore will bring additional benefits:
Provision of full and part-time employment opportunities;
State of the art in-store bakery area offering freshly baked products throughout the day;
Internally the store will be bright and airy;
Lidl stores are also designed to have wide and accessible aisles to allow free movement for all customers throughout the store;
One or two deliveries per day will take place at the rear of the building away from customer activity;
Cycle parking spaces will be provided onsite in a well monitored location for use by staff and customer;
A limited range of product lines will be supplied, which encourages customers to shop with other retailers in the established local centre.
Other benefits include:
The subject site is highly accessible due to its location and its proximity to good transport links;
The proposal will improve choice for shoppers and encourage competition between retailers;
This opportunity allows us to provide a discount foodstore which is easily accessible.
Charity and Local Initiatives
Lidl has a commitment to working with communities in which stores are located as part of sustainable development and corporate responsibility. Lidl is very conscious of their responsibilities as a retailer and continually apply themselves to improving in all areas of our business: environment, climate protection, employment, community action and our product range. As part of Lidl's motto "On the Way to a Better Tomorrow", it is ensured that customers and interested parties are always fully informed of Lidl's responsibilities.
This responsibility will continue with a new store in Irvine and support will be shown to the local community.  Please see the following website for more information on some of our initiatives:  https://www.neighbourly.com/Lidl
Have your say
We hope you can attend our public consultation exhibition to find out more about the proposed development and meet the Lidl team.  However, if you are unable to make it on the day, up-to-date information can be found on this website.
We are holding the consultation on the 29 January and 30 January at the Ripple Café:
Ripple Café
Restalrig Lochend Community Hub
198 Restalrig Road South
Edinburgh
EH7 6DZ
The location can be found here
We would welcome your comments on the proposal by 06 February 2020, as all feedback received will be taken into consideration.
Please provide your feedback by completing the attached form and returning it to the postal address or email address below.
You can write to us at the following email address: lidlseafieldroad@rapleys.com
Alternatively, if you would prefer to submit your comments by post, please use the following address:
Lidl Seafield Road
Rapleys LLP
8A Rutland Square
Edinburgh
EH3 2AS
We will consider all feedback returned to us and, where possible, use it to make changes to the proposed plans.
A planning application was submitted to the City of Edinburgh Council at the end of January 2020.

Download
Feedback form – download here
Site plan – download here