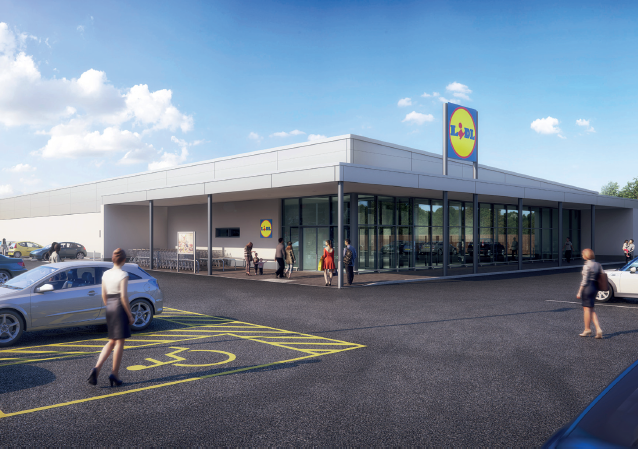 ADDRESS: Carlisle Road, Airdrie
Mixed Use Development for Airdrie
This proposal represents a comprehensive redevelopment of the Burn Stewart Distillery located on Carlisle Road, Airdrie. The scheme proposes the demolition of the existing buildings and redevelopment of the site to deliver a new discount foodstore operated by Lidl, a drive-thru restaurant and a further unit which will be either an additional shop or restaurant.
As part of our ongoing commitment to public consultation, we are delighted to be able to provide members of the local community with an overview of our exciting redevelopment proposals.
The Proposal
This application is a Planning Permission in principle application with matters brought forward for the Lidl foodstore, access, car parking and landscaping. This means that while all information for the Lidl store will be addressed at this stage, the full details for the other two units will be submitted at a later stage.
The proposed Lidl foodstore will be located to the south of the site and will feature an attractive glazed frontage will a car park area to the north.
The new food store will extend to 1,900 sq m gross external area (GEA) with a net sales area of 1,255 sq m. While the full details of the other units are not to be brought forward at this stage, it is proposed that the Class 1/Class 3 unit will measure 1,374 sq m and the Class 3 Drive-thru will measure 187 sq m.
The new food store will be supported by a total of 187 parking spaces, including 9 dedicated disabled spaces, and 7 parent and child spaces.
It is proposed that the Lidl store will be open between the hours of:
8am to 10pm Monday to Saturday, and
10am to 4pm Sunday (Including Bank Holidays).
Normally there will be a maximum of two deliveries to the store per day. All store waste will be collected by the delivery vehicle, therefore minimising HGV movements within the site.
Please click here to see the site plan.
Benefits of the proposal
 The proposal will bring a number of benefits into Airdrie, including:
Maximising the use of a sustainably located previously developed brownfield site to reduce the use of greenfield sites for development;
The creation of jobs locally through the construction process and employment opportunities once the development has been completed; and
A vibrant redevelopment of a vacant site.
Specifically, the new Lidl store will provide the following benefits to the local area:
A brand new store that will provide a clean and fresh shopping experience to meet the needs of customers;
A dedicated in-store bakery;
Improved shopping choice and provision of a new mainstream discount;
A contemporary building design that will complement the surrounding area;
Employment opportunities for local residents; and
Living Wage Foundation rate (£9.30) for all eligible employees and no zero hours contracts
Charity and Local Initiatives
Lidl has a commitment to working with communities in which stores are located as part of sustainable development and corporate responsibility. Lidl is very conscious of their responsibilities as a retailer and continually apply themselves to improving in all areas of our business: environment, climate protection, employment, community action and our product range. As part of Lidl's motto "On the Way to a Better Tomorrow", it is ensured that customers and interested parties are always fully informed of Lidl's responsibilities.
This responsibility will continue with a new store in Bellshill and support will be shown to the local community. Please see the following website for more information on some of our initiatives: https://www.neighbourly.com/Lidl
Have Your Say
We appreciate that these are very challenging times and your safety is our primary concern. This is why we are offering several ways of engaging with us, meaning those of you who are self-isolating or simply do not wish to leave your home can still get in touch with our team, have your questions answered and leave us your feedback.
Therefore, as an alternative, we would be grateful if you could complete our online questionnaire. This is available at the link below:
https://www.ntgt.de/ra/s.aspx?s=424934X87329710X13498 
If you have any other comments on the information contained in this leaflet, you can also write to us using the following email address:
lidlairdrie@rapleys.com – Subject Title "Proposed Lidl Foodstore – Airdrie"
If you are unable to access the online website, you can provide your comments by post, please write to:
Lidl Airdrie, Rapleys LLP, 80 George St, Edinburgh EH2 3BU
We would ask that comments are sent back to us no later than 30 October 2020. We will review all comments and look to take these on board as the planning application process progresses.
Please bear in mind, comments made to this consultation are not formal representations to the Council. When a planning application is submitted in the future, there will be an opportunity to submit representations to the Council as the Local Planning Authority.
Downloads
Site plan – download here
Leaflet – download here