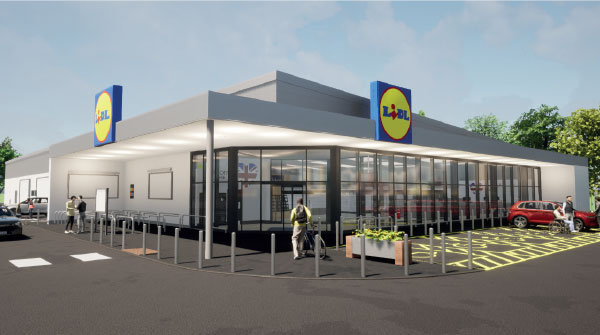 ADDRESS: Birmigham Road, Walsall
A new Lidl for Walsall – Birmingham Road
Lidl would like to bring a new store to Birmingham Road, Walsall.
Site Background
The site currently comprises the 'Metro Inns' hotel and 'The Broadway Bar and Grill'. To the north, west and east of the site are residential dwellings, together with former tennis courts to the south.
The site is located approximately 2 km to the south of Park Hall Local Centre.
The Proposal
The proposal is for the demolition of the existing buildings and the erection of a new discount foodstore (Use Class E) with access, car parking, landscaping and other associated works.
The proposed foodstore has a Gross External Area of 2,067 sqm, and a sales area of 1,370 sqm. 76 car parking spaces are proposed, including 5 disabled, 6 parent & child and 2 electric vehicle charging (EVC) spaces. The development includes an amended access point from Birmingham Road to the south-eastern end of the site.
It is proposed that the Lidl store will be open between the hours of:
 8am to 10pm Monday to Saturday (including Bank
Holidays); and
10am to 4pm Sundays.
The store would normally receive Only 1 to 2 HGV deliveries per day (with a maximum 3 deliveries during peak bank holiday periods), which also take waste (80% of which is recycled) back to the regional distribution centre at Wednesbury, helping to reduce the number of traffic movements and reducing emissions as a consequence.
Benefits of the Proposed Development
A store that will provide a new discount food shopping experience to meet the needs of customers and the expanding local community;
A commitment to providing food from local and sustainable sources, with two in every three products within our permanent range coming from British suppliers;
A dedicated in-store bakery offering freshly baked products throughout the day;
A sustainable energy efficient store to include: roof mounted solar panels providing up to 25% of the stores electricity requirement; the use of highly efficient air source heat pumps to heat the store; and the provision of a Sustainable Drainage
System to improve storm water management on site and reduce the risk of flooding;
Up to 40 new high quality full time equivalent (FTE) jobs for local people, paying not less than the 'Lidl Wage' (£10.10 which is 60p per hour more than the National Living Wage for over 23s), and no zero hours contracts;
Contemporary building design with glazed frontage; and
Enhanced landscaping throughout the site.
Have Your Say
At Lidl, we know our success depends on the people we work with and the people who choose to shop with us. We recognise that providing high quality products at industry leading prices is only part of the story; the environment in which our customers do their shopping completes the experience. We would like to invite you to provide us with your thoughts on our proposal to open a new Lidl store in at Birmingham Road. Walsall.
Please register your feedback and provide any comments online by clicking here or using QR code below:

Or by email: birminghamroad@rapleys.com
Alternatively, you can also provide your comments via the return slip below or telephone: 0161 8176225 (leave a message).
We would welcome your comments on our proposal by 17 June 2022, as all feedback will be taken into consideration.
Consultation Documents:
Birmingham Road Consultation Leaflet – click here