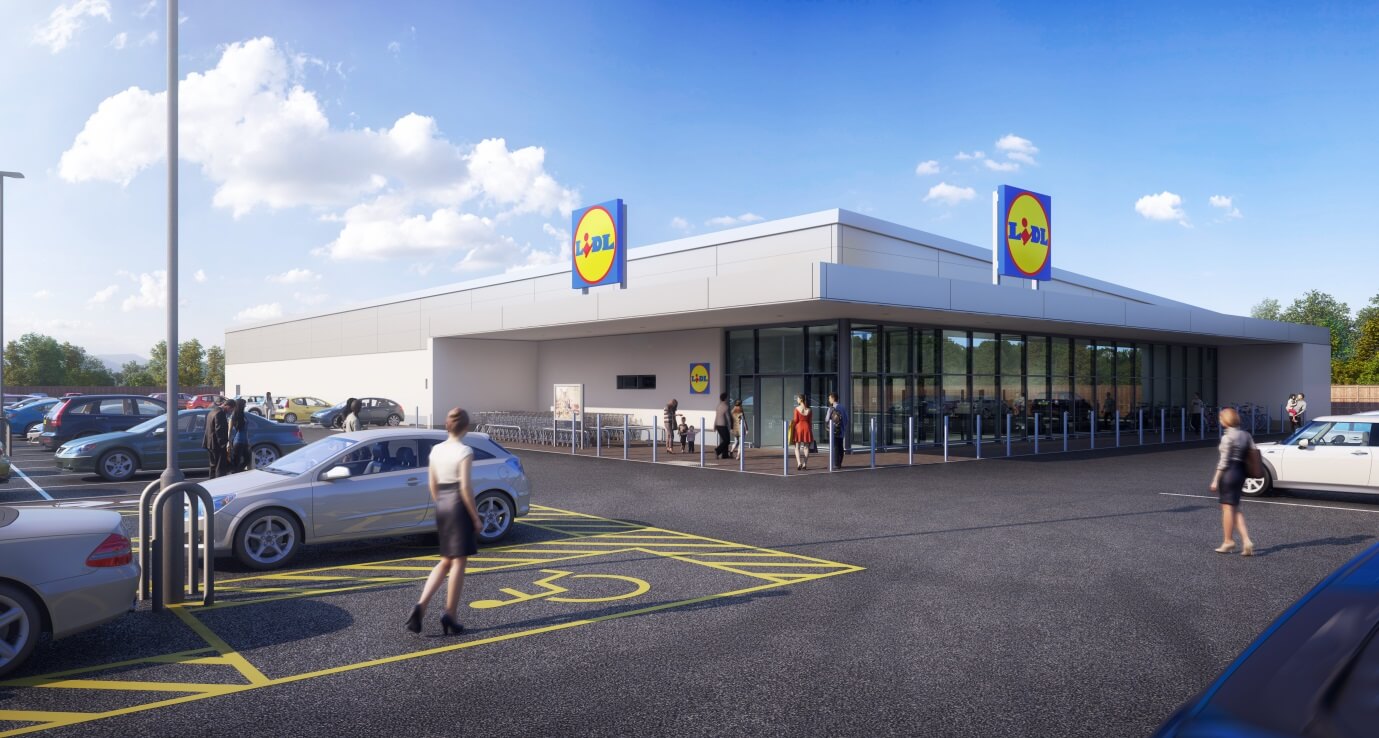 ADDRESS: Craigleith Retail Park, Edinburgh
Lidl propose to open a new store within the former Toys R Us retail unit on the Craigleith Retail Park. The proposed Lidl store will benefit from free car parking bays with further benefits including:
Creation of up to 35 additional new jobs, at a minimum of £9.00 an hour and with no staff operating on zero-hour contracts;
A new store which aims to reduce its carbon footprint and continually improve its methods of recycling materials;
Internally the store will be bright and airy providing a clean and fresh shopping experience for customers; and
Lidl stores are also designed to have wide accessible aisles to allow free movement for all customers throughout the store.
As part of our ongoing commitment to public consultation, we are delighted to be able to provide members of the local community with an overview of our exciting redevelopment proposals.
Proposal
The proposed Lidl store is within the former Toys R Us retail unit at Craigleath Retail Park located at South Groathill Avenue, Edinburgh.
Access to the site will be taken from the existing access off South Groathill Avenue and associated current car parking.
It is proposed that the store will be open between the hours of:
8am to 10pm Monday to Sunday (including Bank Holidays)
Normally there will be a maximum of two HGV deliveries to the store per day. All store waste will be collected at the same time as the deliveries therefore minimising HGV movements within the site.
The proposed Lidl store will bring additional benefits:
Provision of full and part-time employment opportunities;
State of the art in-store bakery area offering freshly baked products throughout the day;
Internally the store will be bright and airy;
Lidl stores are also designed to have wide and accessible aisles to allow free movement for all customers throughout the store;
One or two deliveries per day will take place at the rear of the building away from customer activity;
Cycle parking spaces will be provided onsite in a well monitored location for use by staff and customer;
A limited range of product lines will be supplied, which encourages customers to shop with other retailers in the established local centre.
Other benefits include:
The subject site is highly accessible due to its location and its proximity to good transport links;
The proposal will improve choice for shoppers and encourage competition between retailers;
This opportunity allows us to provide a discount foodstore which is easily accessible.
Traffic Impact
The traffic generation of a Lidl foodstore is minimal compared to a mainstream food retailer. It is important to recognise that discount foodstores stock a mere 2,000 products. As Craigleith is already an established retail park, the level of trip generation from the proposal is in line with the established use of the retail park.
Charity and Local Initiatives
Lidl has a commitment to working with communities in which stores are located as part of sustainable development and corporate responsibility. Lidl is very conscious of their responsibilities as a retailer and continually apply themselves to improving in all areas of our business: environment, climate protection, employment, community action and our product range. As part of Lidl's motto "On the Way to a Better Tomorrow", it is ensured that customers and interested parties are always fully informed of Lidl's responsibilities.
This responsibility will continue with a new store in Craigleith and support will be shown to the local community. Please see the following website for more information on some of our initiatives: www.neighbourly.com/Lidl
Have Your Say!
We hope you can attend our public consultation exhibition to find out more about the proposed development and meet the Lidl team. However, if you are unable to make it on the day, up-to-date information can be found on this website.
We are holding the consultation on the 14th February at the former Toys R Us retail unit between 12 noon and 7pm. The address is:
Former Toy R Us (Unit 15),
Craigleith Retail Park
South Groathill Avenue
Edinburgh
EH4 2LN
We would welcome your comments on the proposal by 21st February 2020, as all feedback received will be taken into consideration.
Please provide your feedback by completing the attached form and returning it to the postal address or email address below.
You can write to us at the following email address: lidlcraigleith@rapleys.com
Alternatively, if you would prefer to submit your comments by post, please use the following address:
Lidl Craigleith
Rapleys LLP
8A Rutland Square
Edinburgh
EH3 2AS
We will consider all feedback returned to us and, where possible, use it to make changes to the proposed plans.
We hope to submit a planning application to the Council soon.

Download
Feedback form – download here
Site plan – download here