ADDRESS: Land at Crompton Way, Stanecastle Roundabout, Irvine
Lidl is looking to deliver a contemporary new foodstore with ample parking on land by Crompton Way located beside the Stanecastle Roundabout, Irvine.
The aim of the scheme is to deliver a new, modern and spacious Lidl store which will provide a convenient location for customers living in Irvine. The development will bring new investment into the town and create up to 40 new jobs at a minimum £8.75 per hour with no staff operating on zero-hour contracts.
The new Lidl store will be a single storey property comprising a sales area of 1,257 sq m, customer car parking and an in-store bakery. The site benefits from excellent transport connections and is in close proximity to a new housing development immediately to the south.
The proposed store will be one of the first in the country to feature the new design concept which provides for a contemporary, modern and efficient building.
The new Lidl store will feature the following:
In-store bakery where customers can see the products being prepared before being stocked
Restricted number of product lines designed to complement local businesses
Wide and accessible aisles for free movement
Customer toilets
The Proposal
The development site is approximately 1.17 hectare in size and is located adjacent to Stanecastle Roundabout. This is to the north of Irvine Town Centre. Crompton Way bounds the site to the east and a new housing development is located on the site's southern boundary. A number of bus stops are located nearby including Manson Road and a public footpath bounds the site to the north providing routes to the wider area including west and east.
Access to the site will be taken from Crompton Way and 130 spaces will be provided including 8 disabled and 12 parent & child spaces. Bicycle parking will be provided under the entrance canopy on the eastern elevation.
It is proposed that the store will be open between the hours of:
8am to 10pm Monday to Sunday (including Bank Holidays)
Normally there will be a maximum of two HGV deliveries to the store per day. All store recycling and waste will be stored within the building and collected at the same time as the deliveries therefore minimising HGV movements within the site.
The development will comprise of a new single storey building with a footprint of 1,410 sq m. The proposed Lidl store will develop this prominent vacant and derelict site in Irvine as well as bringing additional benefits:
Provision of full and part-time employment opportunities;
State of the art in-store bakery area offering freshly baked products throughout the day;
Contemporary building design which will integrate successfully with the surrounding area;
The development will be constructed from high quality materials and finished to a very high specification.
Internally the store will be bright and airy, mainly due to the large amount of glazing used, which utilises natural light and helps reduce electricity consumption;
Lidl stores are also designed to have wide and accessible aisles to allow free movement for all customers throughout the store;
One or two deliveries per day will take place at the rear of the building away from customer activity;
Cycle parking spaces will be provided onsite in a well monitored location for use by staff and customer;
A limited range of product lines will be supplied, which encourages customers to shop with other retailers in the established local centre.
Other benefits include:
Our new store will significantly improve the visual impact of the existing site;
The subject site is highly accessible due to its location and its proximity to good transport links;
The proposal will improve choice for shoppers and encourage competition between retailers;
This opportunity allows us to provide a discount foodstore which is easily accessible to those living in the east of the town and eliminate the need to travel across town to visit similar offerings.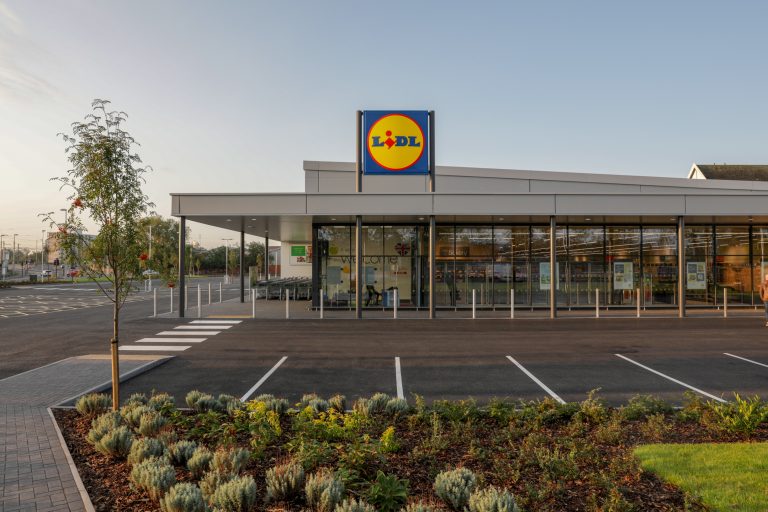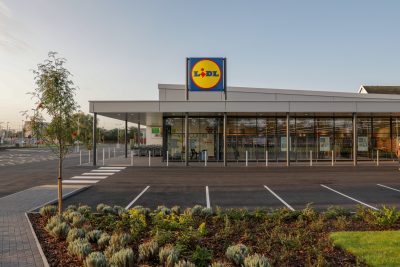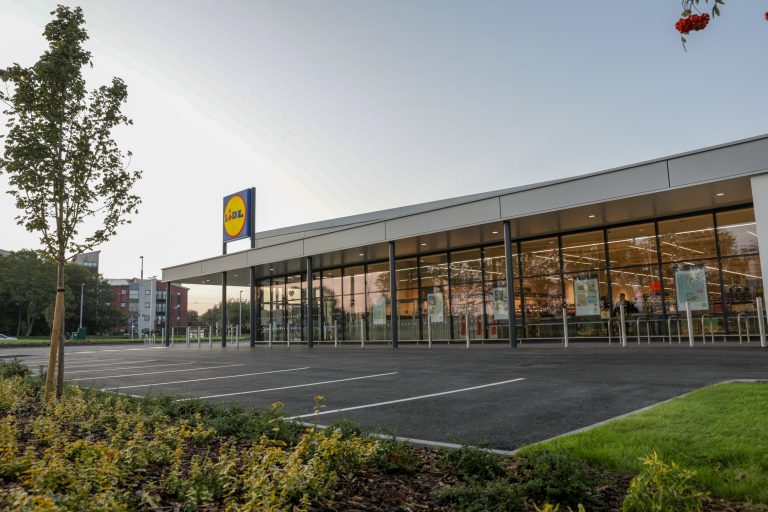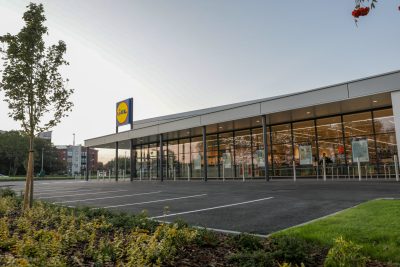 Traffic Impact
The traffic generation of a Lidl foodstore is minimal compared to a mainstream food retailer. It is important to recognise that discount foodstores stock a mere 2,000 products and have a very low turnover of circa £3m per annum (comparable to a Tesco Express). In contrast, a major supermarket such as Sainsbury's or Tesco Extra could stock more than 30,000 products and have a turnover of circa £30m. Accordingly, the traffic generation of a discount foodstore is extremely low in comparison.
As part of the planning application a Transport Assessment will be undertaken by a suitably qualified transport consultant aimed at establishing the effect of the proposed development on the surrounding road network.
Charity and Local Initiatives
Lidl is working with communities in which stores are located as part of their sustainable development and corporate responsibility strategies. Lidl is very conscious of their responsibilities as a retailer and continually apply themselves to improving in all areas of our business: environment, climate protection, employment, community action and our product range. As part of Lidl's motto "On the Way to a Better Tomorrow", it is ensured that customers and interested parties are always fully informed of Lidl's responsibilities.
This responsibility will continue with a new store in Irvine and support will be shown to the local community.  Please see the following website for more information on some of our initiatives:  https://www.neighbourly.com/Lidl
Opportunity to Comment
We are holding an information event on the 9 and 10 October 2019 between 3pm-7pm at:
Gulab Indian Restaurant & Bar
Stanecastle Road
Girdle Toll
Irvine
KA11 1AE
You can visit the North Ayrshire Council Planning Website to leave comments about the proposed development once the planning application has been submitted.
This will allow the planning officers to view local community comments about the Lidl development in Irvine.
The planning portal can be found at this web address: https://www.eplanning.north-ayrshire.gov.uk/OnlinePlanning/search.do?action=simple
Downloads
Feedback form – download here
Site Plan – download here
Proposed Masterplan – download here