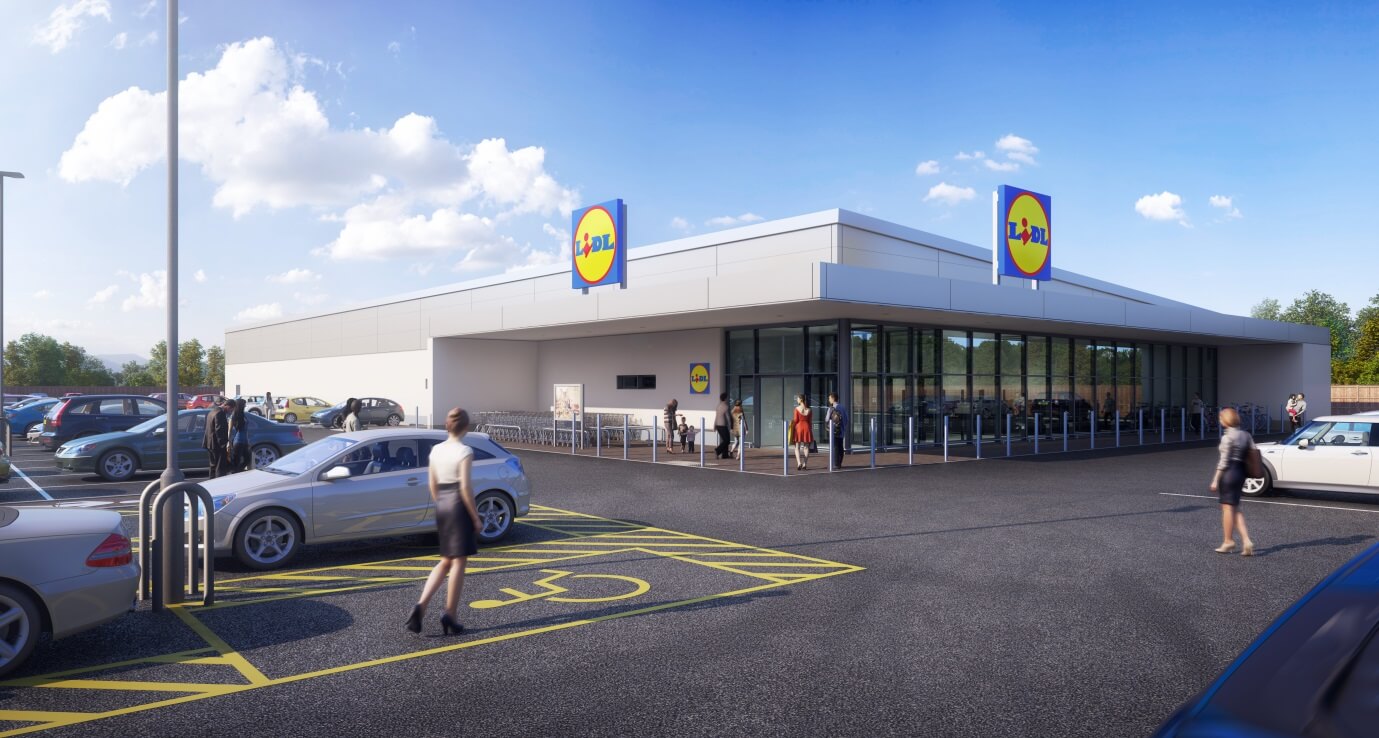 ADDRESS: Rake Lane, Monkseaton
Lidl are looking to deliver a new foodstore, located at the land south of Rake Lane, Monkseaton. Formerly a NHS apartment, the site is currently vacant and surrounded by predominantly residential houses adjacent to the North Tyneside General Hospital. A modern housing estate borders the site to the south and immediately to the east lies a nursery, care home and school.
Proposal
Lidl propose to develop a new store on the site, which will feature an attractive glazed frontage with a large car parking area. Landscaping is also proposed at the site along with a new access to serve the foodstore.
The new food store will extend to 2,149 sq m gross internal area (GIA) with net sales of 1,380 sq m. The new food store will be supported by 120 car parking spaces, including 6 dedicated disabled spaces and 9 parent and child spaces.
It is proposed that the Lidl food store will be open between the hours of:
• 7am to 11pm Monday to Saturday (including Bank Holidays), and
• 10am to 6pm Sunday.
Normally there will be a maximum of two HGV deliveries to the store per day. All store waste will be collected at the same time as the deliveries, therefore minimising HGV movements within the site.
Benefits of the Proposed Development
The new Lidl store will provide the following benefits to the local area:
A brand new store that will provide a clean and fresh shopping experience to meet the needs of customers;
A dedicated in-store bakery;
Improved shopping choice and provision of a new mainstream discount operator for Monkseaton and the surrounding area;
A contemporary building design that will complement the surrounding area;
Employment opportunities for local residents; and
Living Wage Foundation rate for all eligible employees and no zero hours contacts.
Have your say
The importance of community consultation is well recognised by Lidl, so we are inviting residents within the area of Monkseaton to voice their opinion on the proposed Lidl store. We hope that everyone will embrace this opportunity to comment on our proposals, whether it be positive or negative. All comments received will be considered when finalising the design of the new foodstore.
If you are keen to see a new foodstore with the associated benefits in Monkseaton, we would welcome your help and support. Please show your support for the proposed Lidl application in two ways:
Visit https://www.gopetition.com/petitions/support-a-new-lidl-store-in-monkseaton-2.html and sign our online petition. Please encourage your friends and family members (over 18 and living near the site) to sign this petition if they haven't already.
Write a support letter or send a support email and send copies to and/or telephone your local Councillors. You can find details of your local Councillor here: https://democracy.northtyneside.gov.uk/mgMemberIndex.aspx?FN=WARD&VW=LIST&PIC=0
Please write to us and (if possible) send copies to and/or telephone your local Councillors:
Email us at lidlmonkseaton@rapleys.com and (if possible) cc your local Councillors. The subject should be "Proposed Lidl Foodstore – land south of Rake Lane, Monkseaton".
If you do not support our draft proposals we would also like to hear from you, please email us at lidlmonkseaton@rapleys.com with any comments that you wish to make.
Our intention is to collate both positive and negative comments for formal submission to North Tyneside Council in due course.
Download
Feedback form – download here
Site plan – download here