Following new legislation introduced by the Government, a number of key changes have been brought in that affect property use classes. Those properties previously grouped together as D1 or D2 use are amongst those more significantly affected. As with all changes, there will be wrinkles to be ironed out in understanding how certain buildings fit into the new categories. In combination with Rapleys planning Team, we will be able to help clients with this substantial modification.
New Planning Use classes
The Town and Country Planning (Use Classes) Regulations 2020 amend the previous categories from those of 1987 and introduce significant changes to the system of 'use classes'.
In force from 1 September 2020, subject to certain transitional provisions, the core changes introduce three new use classes for the classification of uses of property.
Class E (Commercial, business and service): including retail, restaurant, office, financial/professional services, indoor sports, medical and nursery uses along with "any other services which it is appropriate to provide in a commercial, business or service locality."
Class F.1 (Learning and non-residential institutions): including non-residential educational uses, and use as a museum, art gallery, library, public hall, religious institution or law court.
Class F.2 (Local community): including use as a shop of no more than 280 sq m mostly selling essential goods, including food and at least 1km from another similar shop, and use as a community hall, area for outdoor sport, swimming pool or skating rink.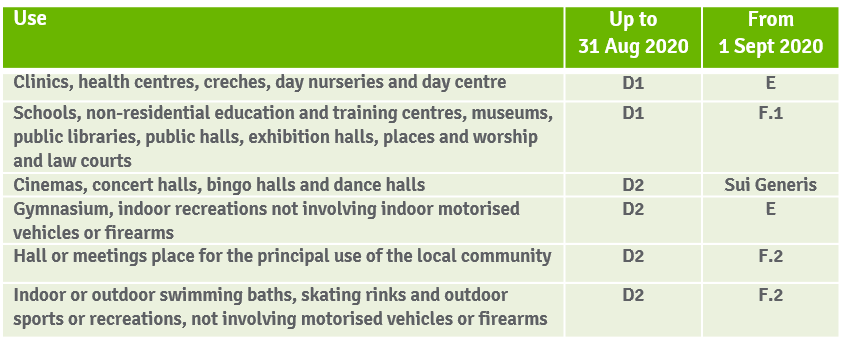 To view the most recent Use Class Order as of Summer 2020, please click here.
Of particular interest to Charities and Not For Profit organisations is the deletion of the previous Classes D1 and D2, non-residential institutions and assembly and leisure uses respectively; they are both removed as shown in the table, and combined into new use classes that now have a much wider range of property types within each class than before.
A change of use within the same use class does not constitute development and therefore does not require planning permission, so more mixed-use and/or faster and more flexible changes of use should be possible in the future.
If you would like to discuss the three additional use classes, which may have an impact on managing your property requirements within the Charities and Not For Profit sector, please contact our specialist Partners, Graham Smith or Adam Harvey.
Alternatively, Rapleys Town Planning team can be contacted in conjunction with changes to the planning system.