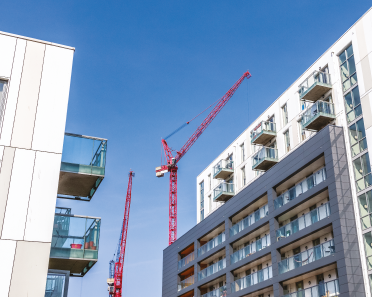 Dan Tapscott, Head of Rapleys Neighbourly Matters team comments on the Government's "Planning for the Future" guidance [published in March 2020] and considers the direction of travel regarding vertical extension rights.

It is applauded that the Government are looking at ways to enable 'innovative' development to happen, including building upwards with vertical extensions. However, we know this is an area that will still warrant detailed consideration by developers in order to avoid Rights to Light objections. These could be quite costly or make developments unviable, even if they get a green light in terms of planning.
A Right to Light (or Right of Light; there is no difference) is an easement, similar to a Right of Way. This enables the passage of diffuse skylight through a defined aperture such as a window to be protected by law. If the level of light received is reduced to an unreasonable degree, then the relevant owners of the property who can make use of the right can raise an objection. The remedy to an objection would either be damages via compensation or the awarding of an injunction to forbid the offending construction commencing, or for its removal, even if the new building is occupied.
Planning laws do not override common or civil law and therefore it is important that before detailed design work progresses, developers ensure they are aware of where the risks are and their strategy for dealing with them. The use of Rights to Light Envelope Studies is an area that could prove invaluable to help guide a design team to work within certain parameters, to avoid unreasonable levels of interference to the neighbouring properties. We believe that in taking this course of action prior to considering what can be achieved via any relaxation in planning laws for Permitted Development, would be the best all-round approach.
The remaining options for developers to deal with matters arising are negotiation with the effected parties in a proactive manner, ignore the issue and wait six years after the injury has been triggered for an objection to arise or consider an insurance based approach.
There has been talk of reform in the Rights to Light industry since the issuing of the Law Commission report in 2014, although nothing has progressed since then. As and when this comes back online (when we hope that the advances in technology for calculating light loss are taken into account), it will be interesting to identify areas of joined up thinking rather than those which conflict.
Rapleys Neighbourly Matters team operate throughout the UK providing Rights to Light, Daylight & Sunlight, Party Wall and Access Arrangement services for both developers and neighbours to development.
If you are planning a development where we can be of assistance, please do not hesitate to contact Dan or a member of the Neighbourly Matters team at Rapleys.